Bathroom installation in Harrow & surrounding areas
✓ Experts in toilet, en-suite and bathroom installations ✓ Complete installation package
✓ All trades covered ✓ Reliable and highly experienced team
Many homeowners and landlords in the Harrow area and beyond are tempted to attempt DIY on their new bathroom installation. It's a tempting thought – you save money on labour charges and it's a project you can get stuck into.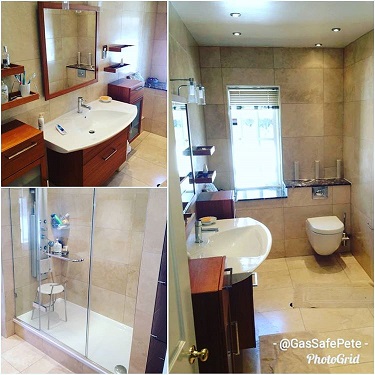 However, ask any professional bathroom installations company and they will tell you that, while most DIY-ers with limited skills can actually replace their own bathrooms, the end result lacks the precision, skill, and aesthetic excellence that it would have if done by a time-served craftsman.
Many others think about becoming a project manager, allocating different work at different stages to a plumber, a plasterer, a tiler, an electrician, a decorator, and a unit installer. It might sound cheaper but that's multiple tradesmen's profit margins you'll be paying together with the headache of getting the right people in at the right time.
Based in Harrow and serving the community across North London, the Peter Brown bathroom installation team is almost certain to be the quicker, cheaper option with a guarantee of a beautiful new bathroom under guarantee at the end.
How does our bathroom installation process work?
Bathroom installation: the design process
With your new bathroom installation, you've got to be sure that you're going to love the finished product. That means that you need a beautiful, elegant, striking, and contemporary design that you're happy with.
When we first meet, you'll be working with one of our experienced designers. We've been trading since 1970 and we've installed thousands of bathrooms so you can be sure that our designers have both the eye for detail and the experience in sophisticated computer design to produce the right design for you.
A beautiful bathroom installation needs to marry style, colour, tiling, furniture, layout, and ease of access to the facilities. At all stages of the design process, specify to us exactly what it is you want and our designer will sketch it for you. Don't worry if you change your mind during the design process – it's rare that a customer's initial design ideas ends up being used fully once they've seen and appreciated the sheer scale of choice we offer in fittings, tiling, fixtures, fittings, and more.
Bathroom installation: old bathroom disposal
Now that you've agreed your design, our Harrow-based time-served and professional tradesman start by removing and disposing of your old bathroom. At all times, our team use carpet protectors and more to protect the rest of your home. We remove the toilet, the basin, the shower, the bath, the shower tray – everything goes including the tiles ready for your new bathroom installation. If we need to, we can use expanding insulating foam around any uPVC windows in your bathroom for additional insulation and to limit heat loss.
You're in control with help from our Harrow bathroom installation & design team
With Peter Brown, you're always in control right from the design stage through to the final sign-off. We guarantee our work and we only use parts, fixtures, and fittings that have manufacturer-supplied warranties.
A bathroom installation is a major investment in your home and your family and our Harrow-based team of designers and fitters will make the whole process as smooth and enjoyable as possible.
Get a free, no-obligation bathroom installation quote
Working with homeowners and businesses across Harrow and North London since 1970, the Peter Brown design and installation team have fitted thousands of bathrooms for satisfied customers. Contact our bathroom installation team to discuss your requirements and get a free quote.