Boiler service in Harrow and local areas
If you're looking for a reliable, trusted and 5-star rated rated expert offering a competitively priced boiler service near you in Harrow, our friendly plumbing and heating team can help.
With the cost of gas rising all the time and with winters getting colder, keeping your boiler operating at peak efficiency is more important than ever.
Peter Brown offers an annual boiler servicing appointment for homeowners and landlords in Harrow and surrounding areas. If you're keen to ensure that your domestic boiler is operating exactly as it should, don't hesitate to get in touch with our expert team.
Why Choose Peter Brown Plumbing & Heating in Harrow
Competitive prices and clear estimates
Highly rated on Google and Which? Trusted Traders for outstanding plumbing and heating services
Family run small business established in 1970
Reliable and experienced team
Free 10 year parts and labour boiler warranty
Gas Safe heating engineers
We only use parts that are warranted
Central heating systems specialists helping you save 40% or more on energy bills!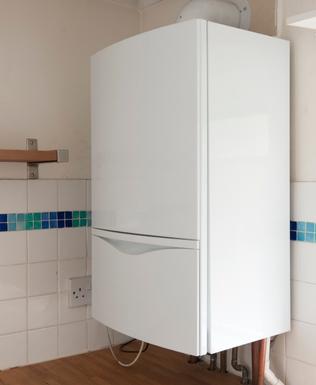 How much does a boiler service cost?
Our annual service costs just £105 plus VAT (£126 including VAT)
Boiler service engineers available for appointments around Harrow
To discuss your requirements with our Harrow boiler service team, please call 020 8863 1155.
Benefits of an annual boiler service:
Reduce energy bills
Minimise the risk of breakdowns
Decrease the risk of gas leak and associated issues
Improve boiler efficiency
Prolong the life of your boiler
Ensure manufactures guarantee is valid
Play a role in reducing the negative impact an inefficient boiler can have on the environment
Our latest Harrow boiler service review via Google
Boiler service Reviewed by KS 2000 on
"Have used their services a couple of times recently for work on my boiler.
Was delighted by the professionalism and quality of service.
Their engineer Alan is a star!"
Rating: 5

Why should you get your boiler serviced every year?
Your boiler keeps your home warm and your water hot. If you've ever lived somewhere where the boiler has broken, you'll understand just how disruptive it is to a home and a family.
If your boiler is working too hard, you'll see the difference with significantly increased gas bills. Your radiators won't be as warm as they should be and your water will never hit that temperature sweet spot you want for having a bath or doing the dishes.
By servicing your boiler regularly, you can avoid health and safety issues tied with the potential for real dangers like poisonous carbon monoxide leaks. However, as the gas is colourless and scentless, it's hard to tell if this is even an issue, so you should get your boiler serviced at least once a year.
It is a legal requirement that landlords must also do a gas safety check carried out every 12 months.
Looking for an expert team offering Gas Safe 'boiler service near you'?
All our engineers at Peter Brown Heating & Plumbing are approved by the Gas Safe Register, the UK's official registration body designed to protect the public against unqualified engineers and unsafe gas work. Our Registration number is 13057.
Did you know our service can validate the warranty on your boiler?