Bathroom fitters can help you plan your new bathroom suite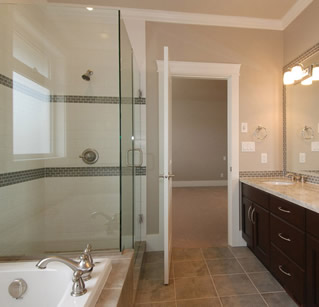 How does the planning stage work? It's about the best use of space and having the features you want. Your Harrow bathroom fitter team will perfectly install a walk-in shower, a wet room, or a custom-built shower cubicle if that's part of your dream design. Our bathroom fitters will make your bathroom stylish and clutter-free so that, if you want one, space for a bespoke fitted wall cupboard or under-sink cupboard.
Where should the mirrors, heated towel rails, and radiators go? Or would you prefer underfloor heating instead? And what about the lighting? Do you want contemporary or traditional, cosy family or boutique hotel?
If your home suffers from limescale, tell your designer. He or she will build in a water softening system for your expert bathroom fitters to install.
With Peter Brown, the choices are endless and you can trust in the experience and passion of our designers to understand you and what your family needs to ensure that, whatever your budget, your bathroom will be as you've always wanted it.
Perfect products for your bathroom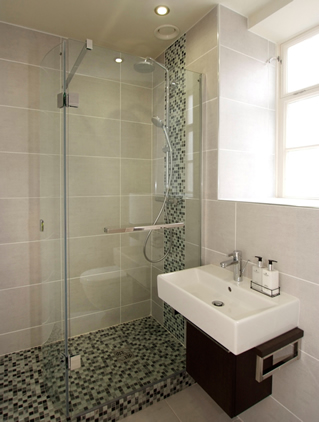 Because Peter Brown has been trading continuously since 1970, we get to work with design studios and bathroom equipment manufacturers which our competitors are not yet permitted to deal with. Trust goes a long way in business and no established, reputable designer or manufacturer wants to work with a here-today, gone-tomorrow company.
Trading for more 50 years buys you access to the widest range of products, fixtures, and extras that your bathroom fitters will install perfectly.
Think about the style, the shape and the functionality of your bathroom products as well as the colour of your bath, shower, toilet, and basin. They set the tone for your whole bathroom.
Toilet design
For your toilet, what shape and flush option do you want? If the environment is of particular importance to you, talk to us about our range of water-saving toilets.
Shower design
Next, the shower – power, digital, or electrical or walk-in. If you need an expert walk-in shower fitter in Harrow then our expert design and installation team can certainly help.
Washbowl
Your washbowl – counter top basin, semi-recessed basin, or simple pedestal?
Tap design
Your taps – mixer, monobloc, freestanding, or wall-mounted?
Lighting
Downlighters, zones that require IP44 ratings, wall lights, and mirrors with built-in sensor lights.
There is so much variation and choice available to you thanks to Peter Brown's market-leading reputation and length of time trading that our bathroom fitters install a unique bathroom for each customer that's completely bespoke to your wishes, needs, and lifestyle.
When you work with our Harrow bathroom installation and design team, you're in control
You're in charge when you choose Peter Brown and that's from the design stage through to the final sign-off. We absolutely guarantee our work and we only use parts, fixtures, and fittings that have manufacturer-supplied warranties.
Get in touch with our specialist bathroom fitting team for a detailed, free and no obligation quote
Working from Harrow for homeowners and businesses across North London, the Peter Brown bathroom design and installation team have fitted thousands of bathrooms for highly-satisfied customers since 1970. Contact us now for a free quote with no obligation.
For more information about our Harrow based bathroom installation service for businesses, please call 020 8863 1155.
Customer Reviews
We are proud to be Which? Trusted Trader approved with 5* Reviews. You can read our superb plumbing reviews and feel free to write your own review.