Planning Your New Bathroom Suite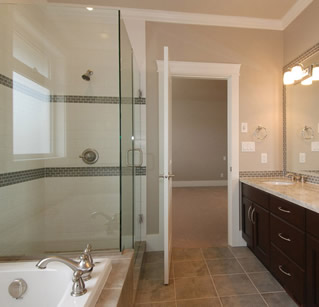 Peter Brown plans fabulous bathrooms
The planning stage is one of the most important when it comes to creating the beautiful bathroom of your dreams. Peter Brown Plumbing's full planning service means we will work with you, listen to and advise you so that your new bathroom is perfect in every way, making the best possible use of space.
For example, you may want a walk in shower, a wet room or a custom-built shower cubicle. Storage is extremely important for a stylish, clutter-free bathroom, you may have space for a bespoke fitted wall cupboard or under-sink cupboard. Where will mirrors, radiators and heated towel rails go? Or instead of a radiator, you may like the idea of underfloor heating. Have you thought about lighting? And for the overall style - traditional or contemporary? 'Boutique hotel' look or cosy family bathroom? Have you considered a water softening system to banish limescale?
The choices are endless and we are here to help you make them to your absolute satisfaction, whatever your budget.
For more information or to request a free estimate call us now on 020 8863 1155.
Products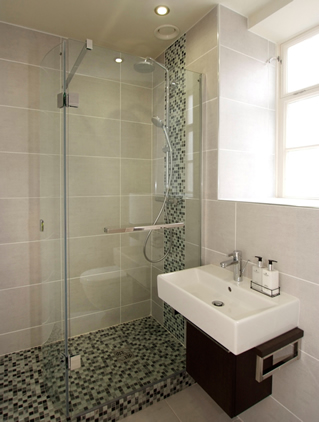 Peter Brown picks perfect products
The style, shape and colour of your bath and/or shower, basin and toilet will define your bathroom. For example, you may think a toilet is just a toilet? There are many different shapes and flush options too, including the latest water-saving toilets. Depending on the space available, you'll need to choose whether you want a close coupled, wall hung or back to wall toilet. Then there is the shower: power shower, digital shower or simple electric shower?
A statement wash bowl, counter top basin, semi-recessed basin or simple pedestal? How about the taps? Mixer tap or monobloc? Freestanding or wall-mounted?
Lighting is another major consideration which we can offer advice on, from simple downlighters and wall lights, to mirrors with built-in sensor lights.
Styles, features and prices of all bathroom products vary enormously and we will gladly explain the differences, cut through the jargon and help you choose the best products for your bathroom and budget.
Don't overlook the accessories! These smaller items, like bathroom mirror, shelves, towel rail and rings, are often the personal touch that makes your beautifully designed bathroom by Peter Brown Plumbing unique. With our extensive experience and knowledge of the latest products we can guide you to choose the right fittings for your new bathroom to make it simply the best room it can be. The bathroom of your dreams.