The Complete Package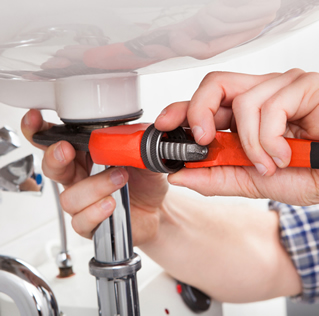 Plumbing & Electrics
Every trade is important to ensure your dream bathroom is just perfect, but with the plumbing and electrics it's essential they are professionally and safely installed. Peter Brown's tradesmen all have professional qualifications and receive continued professional development so for your benefit they remain up to speed with latest techniques, tools and regulations. For example, our tradesmen will ensure air vents are sited in the optimum effective space so condensation is removed as quickly and efficiently as possible. Supported by our design and planning team they will site radiators and towel rails in the ideal space for your towels to be reached but also so essential pipework is minimised. We really do try to think of everything so you are 100% satisfied with your dream bathroom.
For more information or to request a free estimate call us now on 020 8863 1155.
Plastering, Tiling & Flooring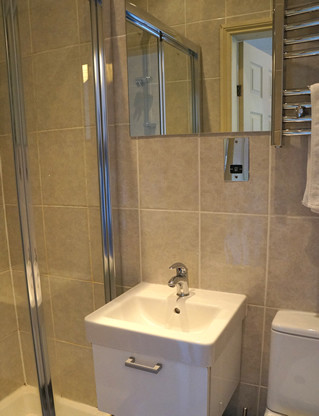 To the untrained eye plastering, tiling and the fitting of flooring may look like DIY jobs. But don't be fooled, these are extremely skilled trades that require years of practice to perfect. For example, many beginners try to put too much plaster on too soon when it's often more effective if the plaster is firmer. Similarly, tiling requires a combination of precision, experience and a finely balanced amount of adhesive. Flooring too, whether it's tiles or a fine seamless screed, requires skilled, precise application to ensure it is effectively sealed and leaks do not occur, which may result in mould or damp. We employ fully trained, highly skilled tradesmen who will deliver a perfect job for your beautifully designed and installed bathroom by Peter Brown.
For more information or to request a free estimate call us now on 020 8863 1155.
Heating & Lighting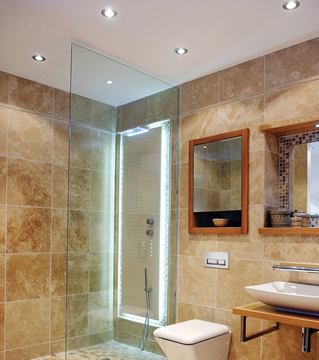 Heating your bathroom correctly is one of the most important aspects for your comfort. You can choose from a range of options from wet (hot water) or wire (electric) underfloor heating, to heated towel rails and conventional radiators. No one is better than the other, but usually one is more appropriate for your bathroom location, shape, the floor tiles you have laid, or your budget. Underfloor heating is more expensive to install, but running costs are usually low.
Lighting sets the mood, and in the room where many of us relax and unwind, you'll want to make sure it's just so. As ever, there are many choices, from recessed or wall fixed lights, to ceiling, wall or cabinet lights. Often, you will want a mixture of downlighters and wall lights to create different moods. We can help you choose between LED and halogen, depending on the brightness you need whilst balancing out cost and performance.
For more information or to request a free estimate call us now on 020 8863 1155.