Air Conditioning & Ventilation Systems in Harrow
Peter Brown Plumbing & Heating provide and install air conditioning and ventilation systems for almost any property.
Whether you own a commercial office, industrial building or you wish to have a system designed for specifically for your home, Peter Brown have the skills and expertise to advise and install the right product to cater for your needs.
What can Air Conditioning help to achieve?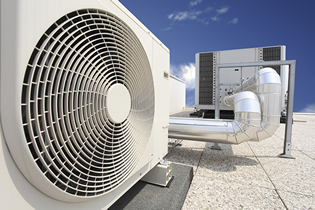 Commercial HVAC (heating, ventilating, and air conditioning) systems provide buildings with controlled and conditioned air enabling a comfortable environment for the people working or living in it. The air is clean and odor-free and the systems are designed and installed so that the temperature, humidity, and movement of the air are within certain comfort ranges.
Where is HVAC (heating, ventilating, and air conditioning) used?
Buildings of all sizes can accommodate a heating, ventilation and air conditioning system including small, medium and large industrial or office buildings. Many environments require strict, safe and healthy building conditions which are regulated with respect to temperature, humidity and odours, using fresh air from outdoors.
What are the benefits of Air Conditioning in the work place?
It is proven that there are many factors which can affect the way staff respond to their working environment. The quality of air is one of them and the purpose of HVAC is to provide thermal comfort and acceptable indoor air quality. A working environment can be made uncomfortable due to many operating sources such as machinery, lighting, lack of ventilation or sufficient insulation so in order to help optimise staff efficiency and output, installing the right HVAC system can be a major benefit for both workers and your business.
Which Air Conditioning & Ventilation System is right for my property?
In order to advise which is the right HVAC system for your business or organisation, Peter Brown will need to assess your requirements and visit the property before an estimate can be provided. There are many systems available for different building environments, but Peter Brown aim to provide a reliable system that operates effectively and efficiently in varying temperature conditions constantly throughout the year.
For more information about our Air Conditioning, Ventilation and Heating services call us now on 020 8863 1155.